Frederick County Volunteer Fire and Rescue wants YOU to
GEAR UP
Would you like to make a difference in your town?
Being a volunteer member is a
great way to contribute!
As our county grows, so does our call
volume and our need for more volunteers.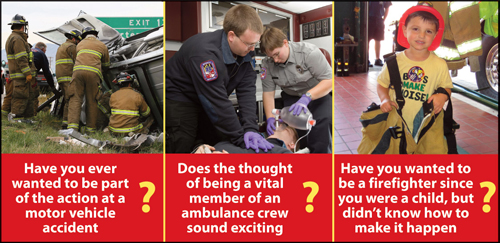 How can YOU JOIN the excitement?

Member Joyce Shry, September 12

YOU can start by viewing our website….www.GearUpFireRescue.com.

Once YOU have considered to volunteer, the following process occurs:
1. YOU fill out your interest in volunteering by using the tab on the left titled "VOLUNTEER".
2. Fill in all requested information to express your interest. Make sure you provide the requested
security information on the web page located at the bottom of the page. ... (Full Story & Photos)


Gear Up Class 16-4 Graduates!

Member Joyce Shry, August 26

Six times a year new volunteers with Frederick County Volunteer Fire and Rescue participate in Gear Up classes. This last class graduated in mid August.

We are the dedicated men and women of Frederick County. We are learning to serve our citizens in their time of need whether it be an emergency or not OR whether it is a fire or rescue call.

Come volunteer with us! We are always looking for ... (Full Story & Photos)



Gear Up Class 16-4 Orientation Class picture. This picture was taken at the Trooper 3 hanger in Frederick, Maryland.